Latest entries
Hugo meets Marc
As promised a photo of the first meeting between Hugo and Marc.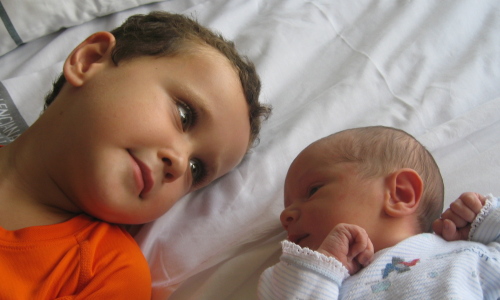 With luck this afternoon the whole family will be at home.
Posted

Sat 23 Aug 2008 09:21:28 CEST
Marc
At 17:55 of the 21th of August of 2008 (four days late from the expected schedule) passenger Marc Talens i Blasco landed at La Fé Hospital in Valencia.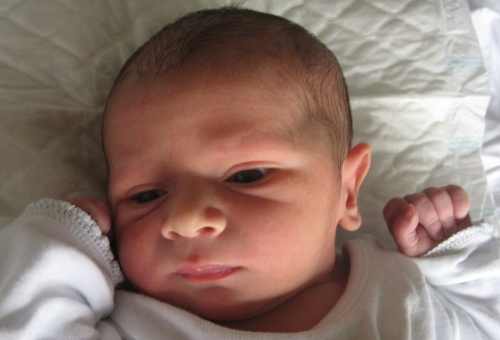 On my next post... Hugo meets Marc!
Posted

Fri 22 Aug 2008 12:17:32 CEST
Summertime, change times
After less than a week of vacation I've decided it was time to write a short blog entry, as I plan to write at least another one in some days, as we are waiting the arrival of Marc, our second son, for this week or the next one.
In the last months I haven't done what I said in my last posts, I'm quite busy with the rest of my life and blogging or keeping my home computing infrastructure is not on the top list.
Anyway I still have managed to do some things like giving a talk about virtualization on the VII Jornades de Programari Lliure, not going to Debconf8 (next year should be the one, the conference is in Spain and I have enough time to prepare it, including a possible trip with all the family) or do a partial server migration at home, leaving two machines to do the work of one.
My plan for the migration has changed and if time permits I'll try to do it in the next couple of weeks; now I plan to move my current servers to an ASUS EeePC with 2GB of RAM and an external USB disk (it is a lot smaller and the hardware is still faster than my old server) and I'll use OpenVZ instead of Linux-Vserver for virtualization (OpenVZ enabled kernels are available for Lenny).
Posted

Thu 14 Aug 2008 09:49:16 CEST
Still Alive
Today I've noticed that my last post was on August and I've decided that I'm going to try to keep this blog alive.
Since this summer I've left the University and now I only have two jobs... my daily work and my son; I believe that things are going better at a personal level, but the truth is that lately I have near zero time to devote to Debian and Free Software in general.
As I don't want to leave the FLOSS world and I'm still able to do some sysadmin related tasks at work and at home I've decided that I'll try to reserve some time for blogging about them.
I'm also thinking about starting a blog and a wiki in Spanish, mainly to be able to publish some of the documents I write at work about our installations, the advantage for me is that I can publish them with a little revision and that is much faster than translating them into English.
Anyway, before creating new blogs my first task is to finish my home server migration; I'm moving all the services that were running on my old PowerBook (PowerPC @ 400Mhz, 378MB of RAM, 10 GB HD) to my other PowerBook (PowerPC @ 1Ghz, 768MB of RAM, 60GB HD), as I haven't used it for ages and I still use a lot the old machine.
On the move I plan to change a lot of things, the machine is going to run multiple vservers and I plan to change a lot of the software I was using, always trying to simplify the maintenance and/or get more performance from the new machine:
The internal network will use dnsmasq for DNS and DHCP (replacing bind9 and the dhcp3-server).

My authoritative nameservers are going to be served by powerdns using the named backend for the primary servers and sqlite3 for the secondary domains.

I'm going to move all my webservers from apache2 to nginx and fast-cgi (the speed and memory gains are huge at work).

I plan to move all my repositories from Subversion to git, including this ikiwiki installation.
I'll try to blog about this new installation once it is done.
Posted

Mon 25 Feb 2008 21:38:42 CET
Lifestyle, Resignations and the Peter Principle
I'll be 0x24 (hex) or pow(6,2) (dec) years old next Sunday and it is becoming obvious that I need to change my lifestyle.
On the physical side I'm sure that I have to loose between 20 and 30 Kg. if I don't want to have health problems in the future. The plan is to change my eating habits and do sport regularly. The basic idea is to do a diet seriously and keep part of the rules more or less forever (that's the habits change); the other important thing is to do some exercise, I've never liked sports too much, but I'm sure I can try to walk some days and swim others (I've been going once a week to the swimming pool during the last months and I'll be doing it twice a week starting this September).
On the mental side, I need to reduce my obligations and care less about the work problems in and out of the office.
To reduce my obligations and have more free time I decided a couple of months ago that I was going to leave the Uni, as it was taking away a lot of time that I can use for more important things; I notified it and after this September I won't be working for the Universitat de València anymore.
Initially my idea was to keep my main work and use some hours each week to work on my PhD Thesis, but the truth is that I'm not interested anymore; I don't have anything specially interesting to say and my main motivation for getting a PhD has also disappeared (at some point I thought about becoming a full time University professor, but after three and a half years I've had enough, at least for a looong while).
This leaves me with my work at the ITI as my main and only work, but after some months I'm seriously considering leaving it also.
My main problem there is that I believe that I'm starting to suffer the Peter Principle or something similar; almost all my professional career I've been working as a technician, first as a programmer and sysadmin and lately as analyst and team leader or technical manager, but now, as it seems to happen always in the Spanish IT companies, I'm being forced to move to a pure project management work and, to be fair, I don't like it.
I don't know if that means that I'll get to my level of incompetence, but if that is the case I think I'll have to try the Peter's Parry, that basically means to refuse a promotion (I've already done it asking to get a place under my theoretical level, although not on a convincing manner, it seems) or use the Creative Incompetence technique, that is, give the impression that you have already arrived to your incompetence level (probably it is too late to do that at my current place, but maybe on the next one I'll be able to do it).
Maybe this is not the last level of the Peter Principle, as I'm sure that I can and will do this work (I'm thinking about moving, but I will not do it until I have a plan for the future, and that will probably mean a new job), but I'm also sure that I will never do it as well as I can do technical tasks because I don't have any real motivation to do it and while I plan to get the skills needed, they are not attractive to me.
I understand that on the current IT world we need to have project managers, and I really hate bad managers, but that does not mean I like to become one, I prefer to be a team leader and work only on one or two projects at a time, instead of having more than five and not do real work in any of them; my main problem is that the challenges and tasks a manager has to do have nothing in common with the things I like from computer science and I'm too perfectionist to handle people that does not care about how things are done in a lazy way (a team leader with a couple of projects can handle technical people, when you are a manager with multiple projects you miss the day to day perspective and problematic people is more difficult to handle).
Oh well, we will see how things evolve. The good thing is that I believe that one way or another I'll end up having a better life and, if I'm able to care less about my own work (and the one done by others) maybe I'll be able to stay at an acceptable level on the hierarchy without getting burn out and maybe some day I'll be able to work again on the things I like and keep my promises.
Posted

Tue 07 Aug 2007 22:04:39 CEST
List of all entries
Hugo meets Marc
Posted Sat 23 Aug 2008 09:21:28 CEST
Marc
Posted Fri 22 Aug 2008 12:17:32 CEST
Summertime, change times
Posted Thu 14 Aug 2008 09:49:16 CEST
Still Alive
Posted Mon 25 Feb 2008 21:38:42 CET
Lifestyle, Resignations and the Peter Principle
Posted Tue 07 Aug 2007 22:04:39 CEST
Four More Years of Bread and Circus
Posted Mon 28 May 2007 10:12:45 CEST
Ridiculous
Posted Tue 09 May 2006 14:45:26 CEST
Life goes on
Posted Thu 23 Mar 2006 23:28:06 CET
Life after the Public Administration
Posted Tue 28 Feb 2006 12:04:48 CET
Three days left at LliureX
Posted Fri 24 Feb 2006 00:40:22 CET
Tired and Burn Out
Posted Fri 03 Feb 2006 21:21:44 CET
I Hate Hardware
Posted Wed 28 Sep 2005 19:52:19 CEST
Uff
Posted Wed 18 May 2005 14:38:18 CEST
Malas lenguas tour 2005
Posted Tue 10 May 2005 14:31:53 CEST
Hugo
Posted Mon 20 Dec 2004 16:38:23 CET
Computer Science Engineers
Posted Sun 07 Nov 2004 23:45:00 CET
Summer's over, let's roll again
Posted Thu 02 Sep 2004 01:18:13 CEST
High School Teacher Competitive Examination (Update 2)
Posted Mon 05 Jul 2004 22:37:29 CEST
High School Teacher Competitive Examination (Update 1)
Posted Fri 02 Jul 2004 20:20:23 CEST
High School Teacher Competitive Examination
Posted Tue 29 Jun 2004 19:20:35 CEST
Communication channels
Posted Tue 22 Jun 2004 00:13:23 CEST
First Post
Posted Wed 16 Jun 2004 22:16:02 CEST